Anker PowerWave 7.5W with Quick Charge 3.0 Wireless Charging Pad
The High-Speed Wireless Charging Pad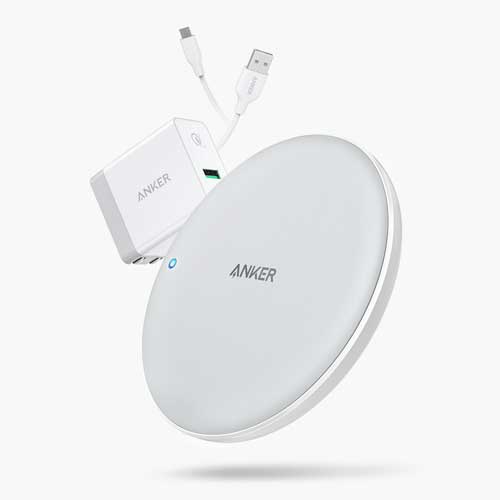 PowerWave 7.5 Pad
An expanded charging surface, adaptive technology, and advanced safety systems combine to create PowerWave, the premiere wireless charger from Anker.
Advanced technology detects your wireless charge-compatible devices, delivering up to 7.5W for Apple devices, and 10W for Samsung. A state-of-the-art internal cooling fan prevents overheating and slowdown, maintaining high-speed charging from 0% to full.
Anti-Slip Surface
Case-Friendly Charging
State-of-the-Art Internal Cooling
MultiProtect Safety System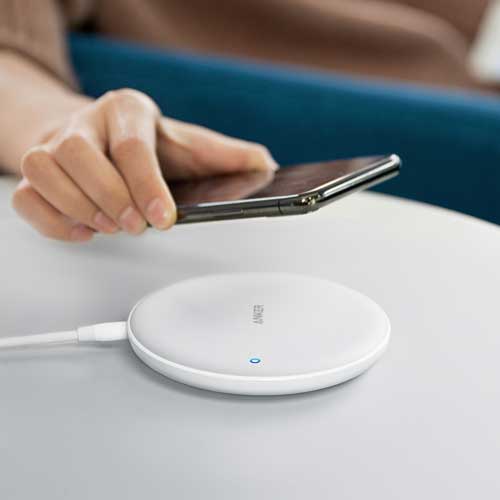 Fast Wireless Charging
A highly-efficient chipset and premium components ensure a reliable, high-speed charge, every time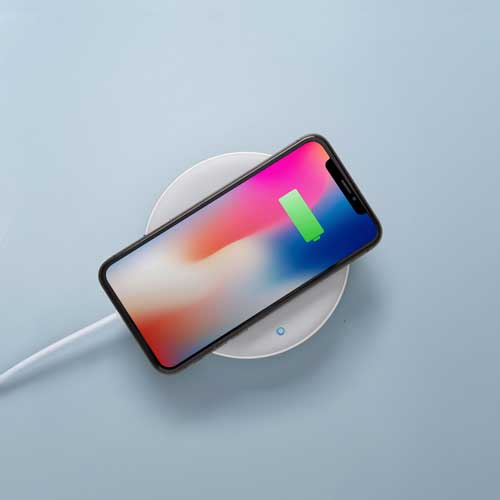 Superior Safety
Intelligent technology determines battery status and administers only the appropriate voltage, keeping your phone safe no matter how many times you charge.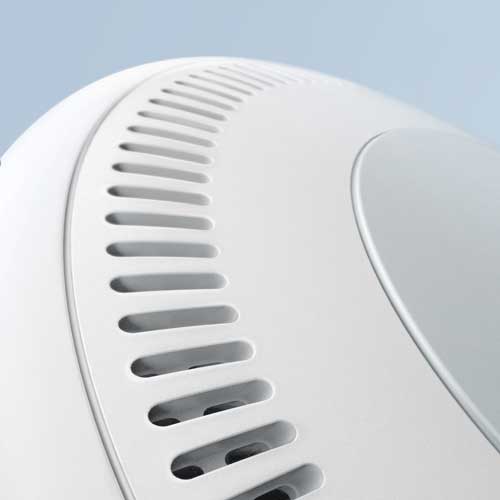 Internal Cooling Fan
PowerWave is the only charger in its class to feature a built-in cooling system, preventing slowdown and overheating while charging at high speeds.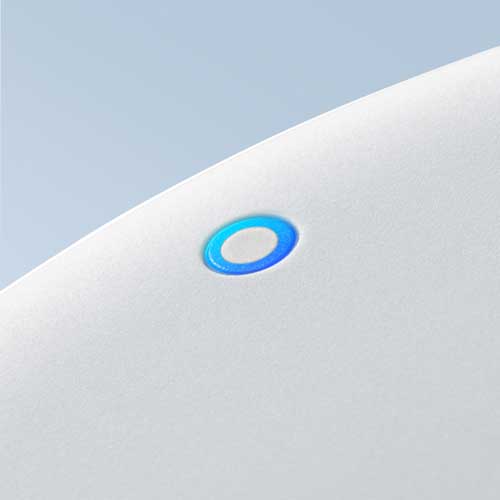 LED Indicator
A soft LED indicates charging status while blending seamlessly with the flowing form-factor and function-first design.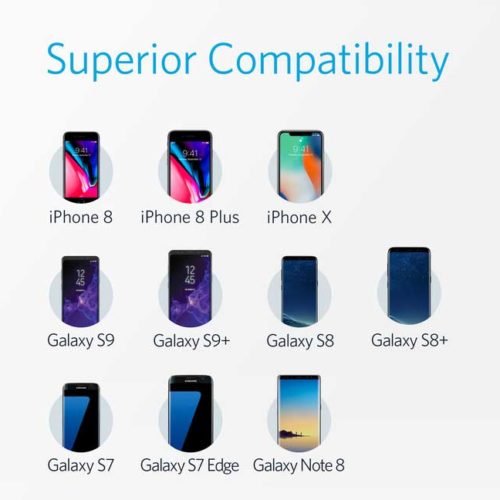 One Charger to Power Them All
Power any wirelessly-charged device in your arsenal at an uninterrupted 5W. Charging power is boosted to 7.5W for iPhone (as fast as Apple's proprietary wall charger), while flagship Samsung phones get a 10W extra-fast charge.
Compatibility
– 7.5W: iPhone X / iPhone 8 / iPhone 8 Plus (iOS 11.2 or later required)
– 10W: Samsung Galaxy S9 / S9+ /Note8/ S8 / S8+ / S7 / S7 edge / S6 edge+ / Note 5
– 5W: Samsung S6/S6 edge, Google Nexus 7 (2013) / 6 / 5 / 4, LG G2 / G3 / G6 Plus / Lucid 2 / Lucid 3 / Optimus F5 / Optimus G Pro / Optimus it L-05E / Spectrum 2 / Vu 2 / Vu 3 / V30 / V30 Plus, Microsoft Lumia 950 / 950 Dual Sim / 950 XL / 950 XL Dual Sim
Notes
– iOS 11.2 required to access 7.5W fast charging for iPhone.
– Quick Charge 3.0 wall charger with 12V / 1.5A output required for operation.
– PowerWave is incompatible with the wall chargers provided with the phone by Apple and Samsung.
– Metal attachments or credit cards will interfere with charging.