Audio-Technica AT-LP60 Fully Automatic Belt-Drive Stereo Turntable

Rediscover your classic 33-1/3 and 45 RPM records on this affordable, fully automatic belt-drive turntable. With its built-in switchable phono preamp, the AT-LP60 may be connected directly to your computer, home stereo, powered speakers and other components that have no dedicated turntable input. The turntable is supplied with an integral Audio-Technica Dual Magnet™ phono cartridge with replaceable stylus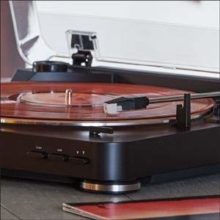 Easy Operation
Fully automatic turntable operation gently places the stylus on records for you and automatically returns the tonearm when record ends; supports both 33-1/3 and 45 RPM records.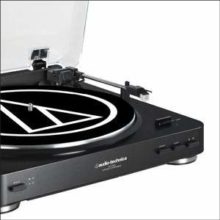 Belt-Drive Design
The AT-LP60's belt-drive design isolates the platter from motor vibrations, resulting in increased clarity and high-fidelity audio.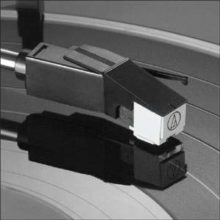 High-Quality Audio-Technica Cartridge
Integral Dual Magnet Audio-Technica phono cartridge with replaceable diamond stylus.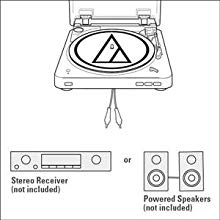 Wide Variety of Connectivity Options
Built-in switchable phono pre-amplifier with RCA output cables to connect to audio systems and powered speakers (not included).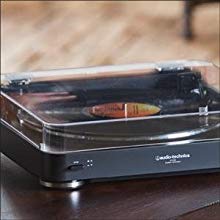 Dust Protection
Removable hinged dust cover.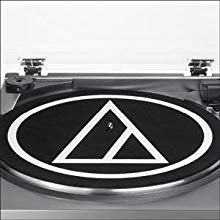 Minimizes Vibration
Anti-resonance, die-cast aluminum platter.
Type
Belt drive turntable, fully automatic
Motor
DC servo-controlled
Speeds
33-1/3 RPM, 45 RPM
Turntable Platter
Aluminum
Wow and Flutter
Less than 0.25% (WTD) @ 3 kHz (JIS)
Signal-to-Noise Ratio
>50 dB (DIN-B)
Output Level
Pre-amp "PHONO": 2.5 mV nominal at 1 kHz, 5 cm/sec
Pre-amp "LINE": 150 mV nominal at 1 kHz, 5 cm/sec
Phono Pre-Amp Gain
36 dB nominal, RIAA equalized
Power Supply Requirements
120V AC, 60 Hz, 3W
Dimensions
360.0 mm (14.17″) W x 97.5 mm (3.84″) H x 356.0 mm (14.02″) D
Weight
2.98 kg (6.6 lbs.)
Accessories Included
Dual RCA (female) to 3.5 mm (1/8″) mini-plug (male) stereo adapter cable; dual RCA (female) to 3.5 mm (1/8″) mini-plug (female) stereo adapter cable; 45 RPM adapter