Keychron C1-H3 RGB Hot-Swappable Gateron Brown Mechanical Keyboard
Keychron C1, a tenkeyless (87 keys) hot-swappable RGB Gateron Brown backlight USB Type-C wired mechanical keyboard made for Mac and Windows. Customize per-key typing experience to maximize your productivity on the C1 hot-swappable version without soldering needs.
Designed with reliability in mind, the C1 comes with a USB Type-C wired connection with a detachable cable, which ensures a constant power supply, and best to fit home, office, and light gaming use while connecting with your laptop or PC. Inclined bottom frame and 2 level adjustable feet make the C1 more comfortable to type.
With a unique Mac layout, the C1 has all the necessary multimedia and function keys while still being compatible with Windows. Extra keycaps for both Mac and Windows operating systems are included.
Engineered with double-shot ABS keycaps allows the charming more than 15 types of RGB backlight to shine through the legends with a subtle feeling. The C1's backlight and comes with different styles (flashing, breathing, or static white, etc) which will match up to your mood.
The C1 gives the freedom to customize the per-key typing experience without soldering. The pre-installed Gateron Brown switch provides unrivaled tactile responsiveness on the clicky Brown switch with a durable 50 million keystroke lifespan. *The C1's hot-swappable socket switch is compatible with almost all the MX style 3pin and 5pin mechanical switches.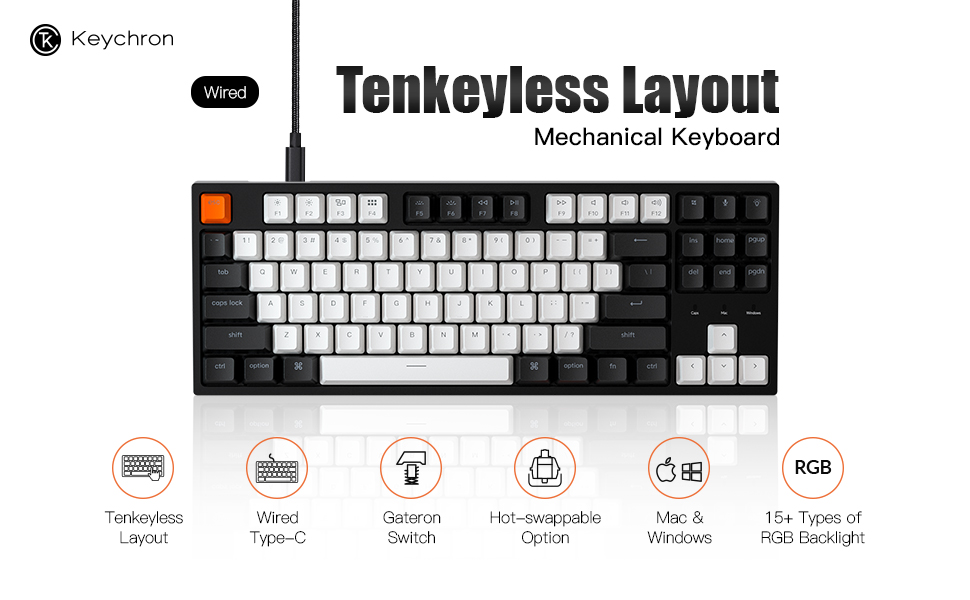 Specification
Model: C1-H3 Gateron Brown
Connectivity: Wired
Number of Keys: 87 keys
Number of Multimedia Keys: 12
Interface: USB Type-C
Version: Gateron (Hot-swappable)
Switches: Gateron Mechanical
Frame Material: ABS
Keycap Material: Double-shot ABS
Keycap Profile: OEM
Layout: ANSI
Backlit Types: 18
Backlit: Adjustable 4-level RGB backlit
Operating Environment: -10 to 50℃