Motorola Sonic Sub 630 Wireless Speaker – Black
Change the atmosphere with music played on a speaker that features an exceptionally great sound quality with Enhanced Bass and Subwoofers. Crafted for both indoor and outdoor use, Sonic Sub 630 features a powerful 9-hours playing time on max volume, IPX5 waterproof and sleek design, and faultless compatibility with Siri, Alexa, and Google Assist. Synchronise a pair of these speakers from just one device to get a full stereo sound that enhances the way you play music. They are the ultimate portable Bluetooth speaker that truly allows you to connect with your music and enjoy a wholesome experience.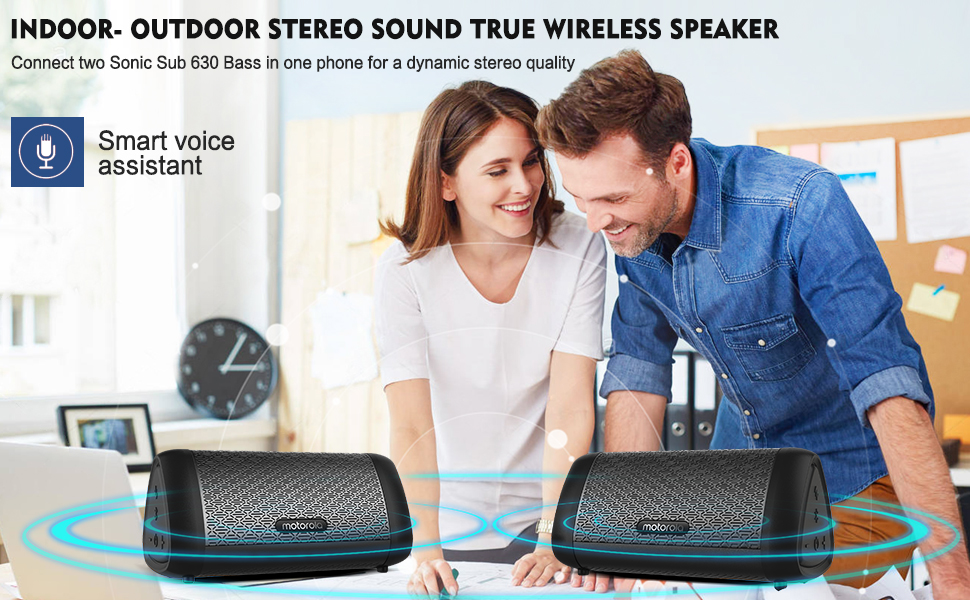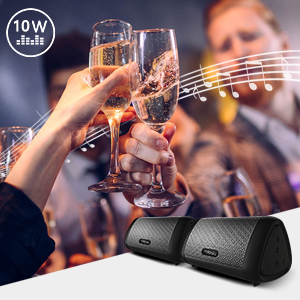 10W Compact Speaker With Extra Bass
This Bluetooth speaker is small but mighty! Clocking in at a mere L5.51"x W2.91" x H2.95" this device doesn't take up much room, but it produces fantastic sound. The Wireless Bluetooth speaker features a built-in subwoofer that works hard to deliver deep bass and crystal clear sound for your enjoyment. Your guests will love the high-quality sound that emanates from your Bluetooth speaker.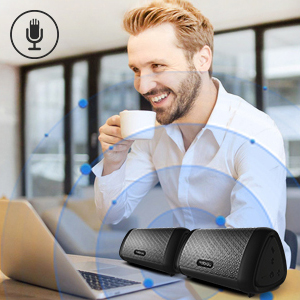 Smart Voice Assistant
Make life easier when you use the built-in microphone to access the functions available with the built-in smart voice assistant. As you work, play, or go about your daily tasks you can easily get assistance from Alexa, Siri, or Google Assistant. Just make sure your Bluetooth speaker is connected and powered on and ask your questions. Life just got easier with the help of our Bluetooth speaker and the smart voice assistant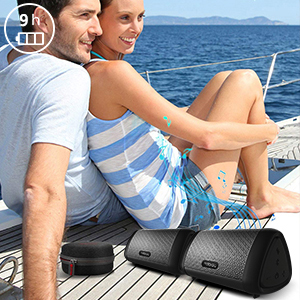 Up To 9 Hours Playtime
While enjoying the music, a podcast, audiobook, or other entertainment on your Bluetooth speaker, you can do so with peace of mind knowing that the battery will last a long while, pumping out high-quality sound the entire time. With this conveniently portable Bluetooth speaker, the party doesn't have to stop until you are ready for it to stop thanks to an impressive 9 hours of battery life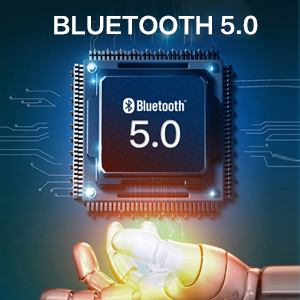 Wirelessly connect your favorite devices
Utilizing the most up-to-date Bluetooth 5.0 technology, our Bluetooth speaker can deliver better sound at a farther range, and it can do it at a higher rate of speed. Bluetooth 5.0 doubles the speed, increases the broadcasting bandwidth and quadruples the wireless range of the devices. We use this technology in our wireless Bluetooth speakers to ensure you have the most enjoyable listening experience possible.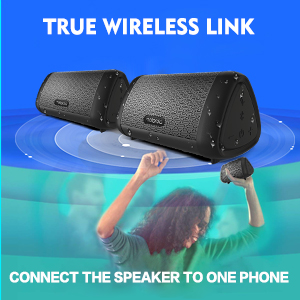 Water-resistant outdoor travel speaker
Our true wireless Bluetooth speakers allow you to get the party started – no matter where you are. Perfect for bringing along to game nights, BBQs, dinners with friends, or wherever you gather with your friends. To increase the fun provided by our compact speaker you can connect two to the same device. This party-friendly Bluetooth speaker is also water-resistant and splash-proof so you can enjoy in it damp areas.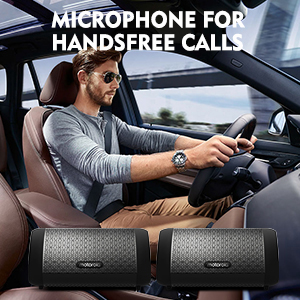 Makes life simpler with voice command
Whether heading down the highway, stuck on conference calls in the office, or enjoying an evening at home, our Bluetooth wireless speaker makes it simple to take phone calls, too. This Bluetooth 5.0 speaker has a microphone built right in so that there is no problem taking your important phone calls whenever necessary. Simply pair the Bluetooth speaker to your phone and it is ready to be used.
Specifications
Type – wireless
Bluetooth Version – 5.0
Voice assistant – Alexa, Siri, Google Assistant
Waterproof – IPX5
Playtime – 11 hours
Twin Speakers