Philips Body Groomer BG1024
Comfortably trim unwanted body hair so you're always prepared for any occasion. This intuitive tool is designed to be gentle, for worry-free body grooming even in your most sensitive areas.
The unique skin protector guards even your most sensitive body areas, allowing you to comfortably trim hair as close as 0.5mm without directly exposing your skin to blades.
Seamlessly trims hair in both directionsSeamlessly trims hair in both directions Uniquely designed to trim hair both backwards and forwards, this trimmer makes it possible to catch and cut hairs even when they grow in different directions.
The Philips Bodygroom is 100% waterproof, so you can simply rinse it clean under water when you're done. It also comes with a non-slip grip, so you can easily use it under the shower.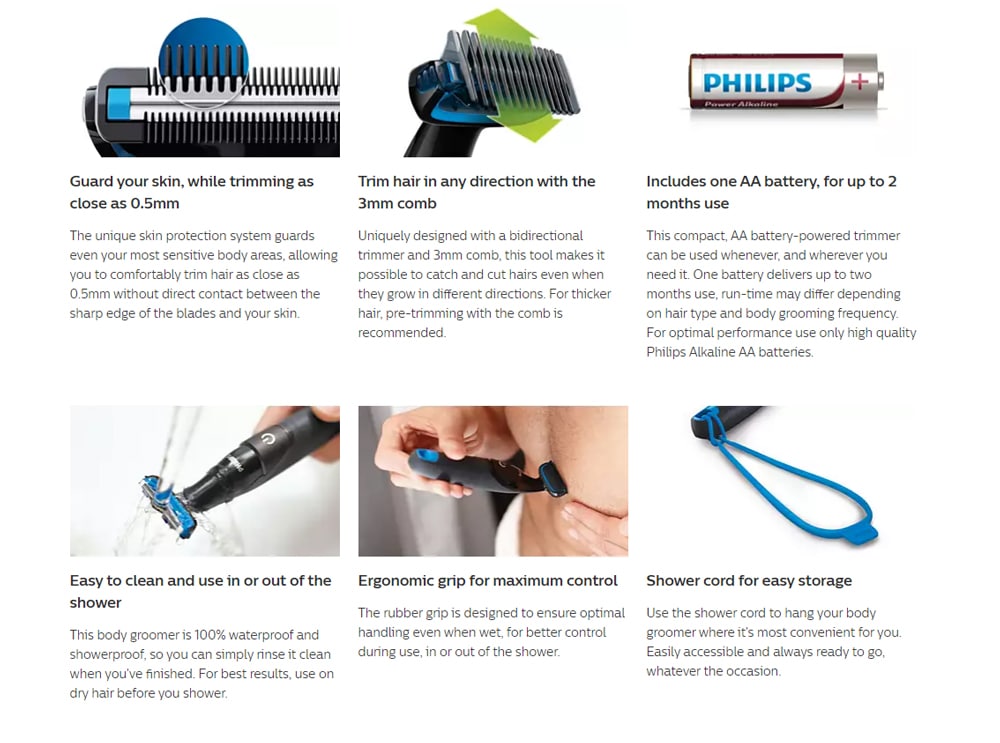 Specification:
Cutter width: 32 mm
Cutting element: Bi-directional trimmer
Skin comfort: Skin protection system, Comfort in sensitive areas
Number of length settings: 1 fixed length setting
Secured length settings: Yes
Wet & Dry: Fully washable, Showerproof and easy cleaning
Operation: Cordless use
Battery type: AA battery
Run time: Up to 2 months